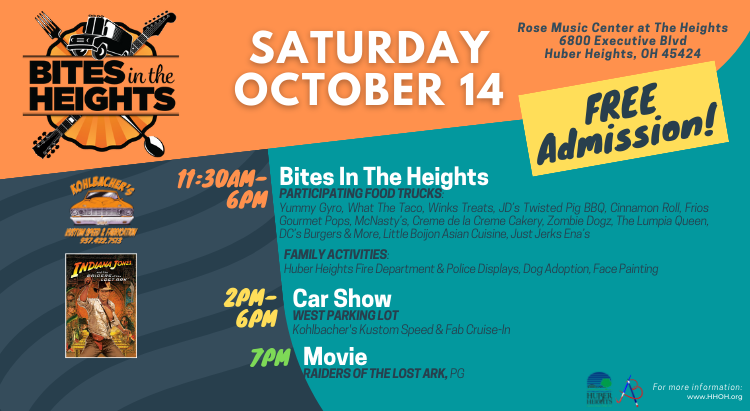 Bites in the Heights
Saturday, October 14, 2023 - 11:30 AM
The City of Huber Heights proudly presents the fifth annual Bites In The Heights Food Truck event at Rose Music Center on Saturday, October 14 from 11:30am to 6:00pm. The event will feature Dayton Food Trucks dishing out a variety of delicacies, children's activities, a cruise-in car show, and a movie screening of Raiders of the Lost Ark starting at 7:00pm! Admission to the event is FREE!
14 local food trucks serve specialty dishes and tasty treats from 11:30am to 6:00pm outside the main gate. Enjoy drink specials all day long! Make sure to visit the face painter to get some custom painted art while a DJ spins music throughout the day.
A variety of community groups will be around for the festivities. The U.S. Army will be displaying their HUMVEE vehicle along with fitness demonstrations. Veteran Services will discuss their outreach and services. The Wright-Patterson Dive Team will be showcasing their rescue team capabilities. The Huber Heights Fire Department will be doing water demonstrations throughout the day, while the Huber Heights Police Department will showcase their SWAT vehicle for kids to explore. Plus, Boonshoft Museum of Discovery will take you and your kids on an educational journey through their collection. Don't forget to say Hi! to the alpacas.
Stop by The Montgomery Country Animal Shelter to view a list of adoptable pets, or consider donating items on their wish list. To view a list of items needed for their wish list, click here.
Browse classic and exotic vehicles during Kohlbacher's Kustom Speed & Fab Cruise-In in the parking lot from 2:00pm to 6:00pm. Stick around for a screening of Raiders of the Lost Ark on the Rose Music Center stage beginning at 7:00pm.
Food trucks include*:
*Food truck lineup subject to change without notice.
Schedule of activities:
Food Trucks & DJ
From 11:30am – 6pm
Huber Heights Police Department - Child ID Kits
From 11:30am – 6pm
Alpacas
From 11:30am – 6pm
Kettering Health
From 11:30am – 6pm
Face Painting Sponsored by Universal One
From 11:30am – 6pm
Boonshoft Museum of Discovery
From 11:30am – 3pm
The Montgomery Country Animal Shelter
From 11:30am – 3pm
The U.S. Army
From 11:30am – 3:30pm
Veteran Services
From 11:30am – 3:30pm
The Wright-Patterson Dive Team - rescue team capabilities.
From 1pm – 3pm
The Huber Heights Fire Department - water demonstrations
From 1pm – 3pm
Kohlbacher's Kustom Speed & Fab Cruise-In
From 2pm – 6pm
Raiders of The Lost Ark
Starts 7pm
Date
Oct 14, 2023

---
Time
11:30 AM

---
Doors Open
11:30 AM